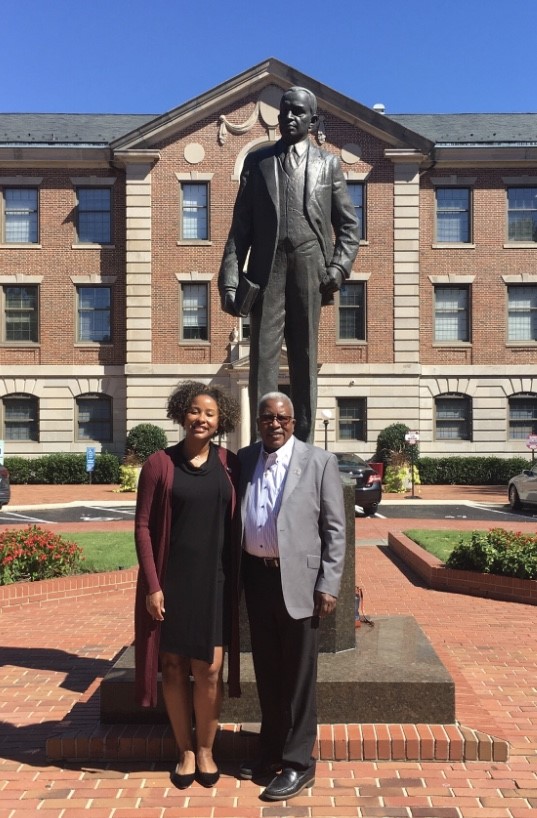 The North Carolina Central University School of Library and Information Sciences (SLIS) is grateful to SLIS faculty member Dr. Siobahn Day Grady and her father, Mr. Sherwin Thomas Day, for their generosity in establishing the Pinnix-Brown Endowed Scholarship. Dr. Grady, an internationally known computer and information scientist, and her father chose to honor their great-grandparents and great-great-grandparents, Champion (Champ) Hudson Pinnix and Chestina Brown Pinnix, by creating a scholarship that will support NCCU students pursuing studies in information science and STEM. Dr. Grady and Mr. Day are passionate about the need to educate future leaders in the information science and STEM fields.
Dr. Grady serves as an assistant professor of information science and systems within the School of Library and Information Sciences. Education is vitally important to her family, with NCCU playing a pivotal role in their pursuit of lifelong learning. Dr. Grady is the first woman to earn a computer science Ph.D. from the North Carolina Agricultural and Technical (A&T) State University. Dr. Grady received her B.S. in Computer Science from Winston-Salem State University (WSSU) in 2005 and her master's degree in information science from North Carolina Central University in 2009. In 2018, she obtained her master's and doctorate of philosophy degree in computer science from North Carolina A&T University. Mr. Day graduated from NCCU with a degree in mathematics and has had a long and respected career in information technology at Duke University.
Dr. Grady is laser focused on serving and supporting her community, especially through her philanthropic efforts. Establishing this scholarship was one way that she and her father could ensure her family members were honored in perpetuity at NCCU. According to Dr. Grady, "Champ and Chestina Pinnix believed in kindness, honesty, education and hard work as pillars for a good life. Let this scholarship be inspirational and aspirational to all who share these pillars."
The Pinnix-Brown Endowed Scholarship fund that Dr. Grady and Mr. Day established can accept gifts from any donors, and they hope everyone who is moved by this article will consider making a gift of any size to the scholarship. The need for highly trained experts in information science and STEM is critical, and the School of Library and Information Sciences is meeting this need. Please contact Dwain Teague '17, director of development, at [email protected] to learn more.
Thank you, Dr. Grady and Mr. Day, for your generous support of the School of Library and Information Sciences!