Women in Jazz and Jazz Gender Justice: The Tribe Jazz Orchestra
Project Overview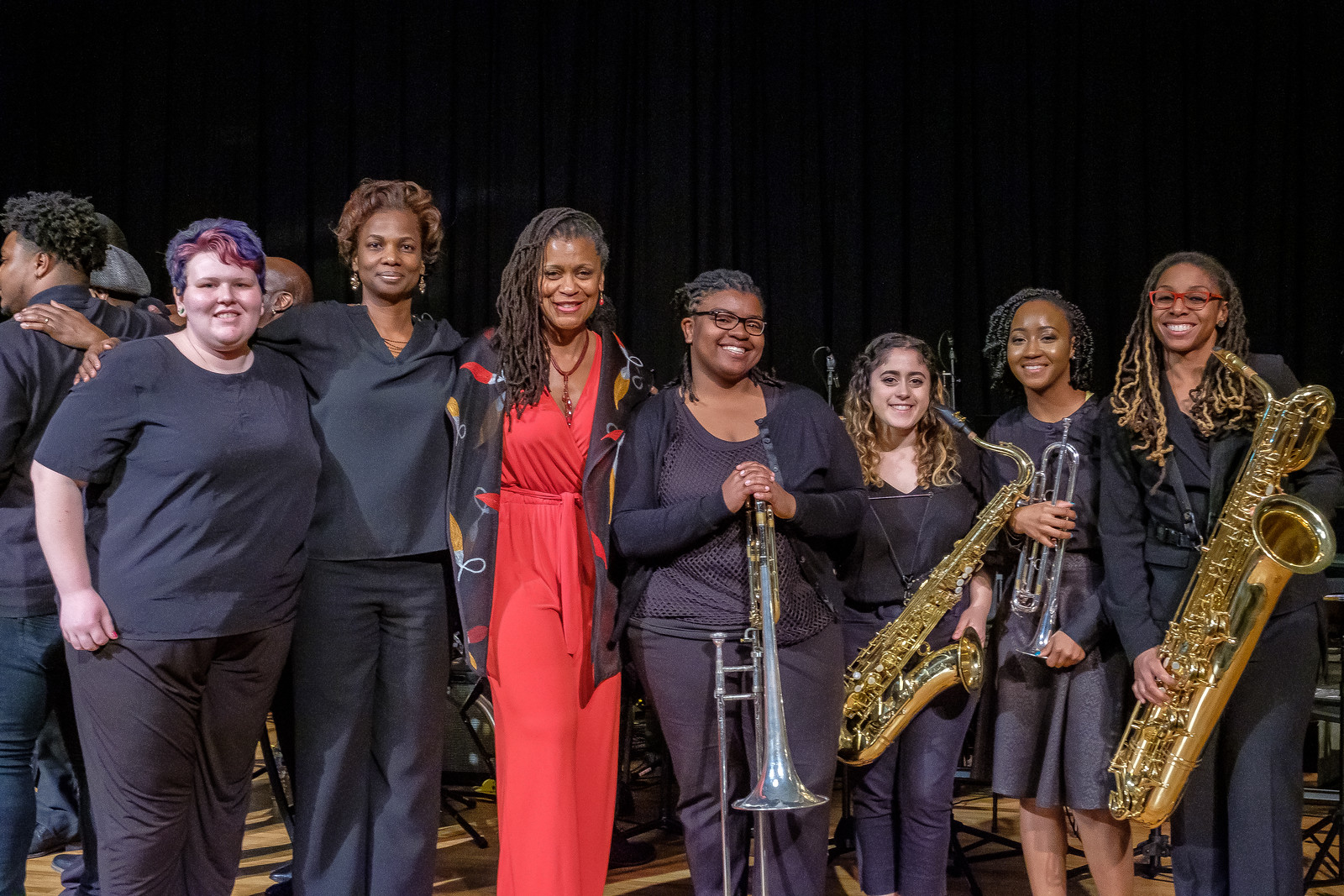 Tribe Jazz Orchestra® (TJO) is an ensemble of 25 musicians, spanning three generations, led by Chicago native, vocalist, composer, and educator Lenora Helm Hammonds (p/k/a Lenora Zenzalai Helm), embodying a unique approach to the music of the big band tradition. Representing one of the few vocalist- and woman-led big bands, TJO features a diverse amalgam of the top men and women performers in jazz, mostly from North Carolina and largely alums or faculty from NCCU's Jazz Studies. TJO's unique personnel comprises a combination of jazz orchestra and modern chamber ensemble and engenders awareness and support for women in jazz. Crowd-funded by over 100 supporters of women and jazz gender justice, the recording "For the Love of Big Band" was the debut release of TJO on March 9, 2020.
The Tribe Jazz Orchestra is a significant disruptor of the usual occurrence of predominantly male leadership of a band. TJO comprises a substantial number of women instrumentalists, addressing the lack of gender equity of band members in most bands of any size. There exists a gap in the presence of women-led big bands, especially for BIPOC musicians. Jazz-women bandleaders, big-band bandleaders and instrumentalists are largely missing from the recorded discographies and performances documented in the lexicon of jazz history. Most people cannot name even a handful of BIPOC women big-band bandleaders. Professor Hammonds' vision is to encourage young emerging women instrumentalists to coordinate and construct bands, independent labels and women-led community music programs.
The first album release of TJO, "For the Love of Big Band," was recorded live over two days (with a live audience!) at a historic old church near downtown Durham, the Hayti Heritage Center, a favorite recording spot for saxophonist NCCU artist-in-residence Branford Marsalis. The music is a mix of jazz standards arranged to elicit a swinging and soulful concert full of groove and excitement. Guest conductor Dr. Brian Horton (NCCU Jazz Studies faculty) and Lenora guide the band through arrangements by Stanley Cowell, Cecil Bridgewater, Brian Horton and Maurice Myers (NCCU Jazz Studies alum and former faculty). Other selections include new big band arrangements of Nina Simone's compositions, "Mississippi Goddam" (arranged by NCCU Jazz Studies alum Lydia Salett Dudley) and "Blues for Mama." Lenora's penned lyrics to John Coltrane's composition "Dear Lord" is a feature of the recording, with Myers' vocal arrangement featuring the North Carolina Central University Vocal Jazz Ensemble, directed by Professor Hammonds.
Women instrumentalists on "For the Love of Big Band" include pianist Lydia Salett Dudley, saxophonists Shaena Ryan Martin and Salome Serena Wiley (not pictured), trombonist Tenay Harrell, trumpeter Zoe Smith and bassist Donielle Ginnae Koon, all NCCU Jazz Studies alumnae. Saxophonist Ariel Kopelove rounds out the women personnel, an alum of a sister UNC School, UNC Greensboro (see photograph).
Guests artists on the record include pianist Joey Calderazzo (NCCU artist-in-residence), bassist Ameen Saleem (NCCU Jazz Studies alum), drummer Kobi Watkins, saxophonists Brian Miller (NCCU Jazz Studies alum) and James "Saxsmo" Gates (NCCU Jazz Studies alum). Some of the notable North Carolina-based members are saxophonist/flutist Dr. Ira Wiggins (NCCU Jazz Studies Director), guitarist Baron Tymas (NCCU Jazz Studies faculty), pianists Ed Paolantonio and Ernest Turner, trumpeters Al Strong (NCCU Jazz Studies faculty) and Lynn Grissett (NCCU Jazz Studies alum), trombonists Robert Trowers and Dr. Isrea Butler, cellist Timothy Holley and drummer and percussionist Thomas Taylor (all NCCU Jazz Studies faculty). The Tribe Jazz Orchestra® includes several outstanding young instrumentalist newcomers to the field from NCCU's Jazz Ensemble, including saxophonist Sam King (who won Outstanding Soloist in the inaugural Jack Rudin Collegiate Jazz Competition at Jazz at Lincoln Center), trumpeter Daniel Campos, and drummer Dorien Dotson, all NCCU Jazz Studies students. Additional NCCU Jazz Ensemble members were saxophonist Matthew York and trumpeter Tyler Perske, both NCCU Jazz Studies alums.
The members of the Tribe Jazz Orchestra have performed together in various configurations and have appeared in noted concert halls and international music festivals in the United States, Europe, Asia, Africa and South America. The musicians have each garnered an international audience of followers and critical and professional acclaim. Follow them at www.TribeJazzOrchestra.com.