Digital Badging

Info Accordions
Badges are digital assets used to communicate achievements or credentials that can be efficiently shared for maximum visibility and recognition. Managed and issued via Credly, North Carolina Central University badges are linked to metadata that provides context and verification of your achievement. Hence, badges awarded by the Office of e-Learning will be considered in the process of evaluation, promotion and tenure for faculty members. Ultimately, these badges will help you tell your professional story in a more complete, efficient and validated manner.
There are numerous benefits of accepting and sharing your digital badges. Representing your skills as a badge gives you a way to share your abilities online in a way that is simple, trusted and can be easily verified in real-time. Badges provide employers and peers concrete evidence of what you had to do to earn your credential.
Be sure to share your success with the professional community! A digital badge viewer can click on your badge and will be taken back to Credly to view all the details of your achievement. You can share your digital badges on the Internet through outlets such as:
LinkedIn
Facebook
Twitter
Email
Embedded in a website
NCCU Badges - Virtual Launch Party
Step 1: Accept Your Badge
You earned a digital credential from the Office of e-Learning and received an email from admin@credly.com. Click on "Accept your badge" within the email message.
Step 2: Create an Account
Create your Credly account or sign in if you have already created an account.
Step 3: Claim Your Badge
Once you sign in to your account, you will be able to claim your badge. Click on "Accept Badge."
Step 4: Customize Your Profile
Make sure to customize your Credly profile. To personalize or edit your profile, click on the profile icon at the top right corner of any screen. Select "Settings" on your Credly dashboard. Show your face by adding a picture to your profile and say something about your role at NCCU in your "Bio" or "Current Position."
Your Credly profile is an important part of telling your professional story. It is one spot on the web where you can manage and share your achievements, so make sure to include a few key elements:
Name – Is your name Katherine, but you go by Kate? Edit your name to best reflect what you would like to be called at work.
Profile picture – Make sure it is a nice photo that represents you as you would like to be viewed by NC Central colleagues. The minimum size is 196 x 196 pixels.
Bio – This is where your professional personality can really shine through. You've got 500 characters to sketch out your key talents, qualifications and interests. 
Step 5: Share Your Badge
Share your digital badge on social media, especially your LinkedIn profile. Looking for instructions? Check the resources here.
NCCU Digital Badge Testimonial Video
In the Office of e-Learning (OeL), we are excited to celebrate the success of faculty and staff members who actively engage in OeL professional development by awarding digital badges. This testimonial video highlights two NCCU badge earners and their enthusiasm for earning and sharing digital badges with their social networks.
Available Digital Badges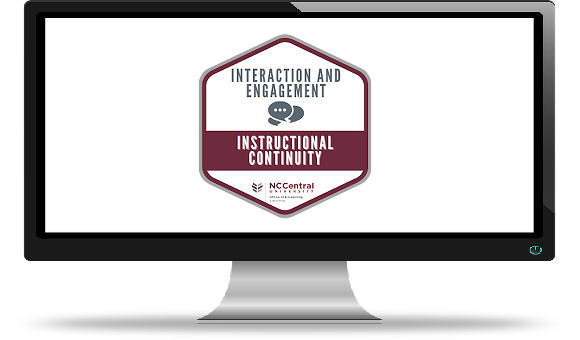 First Issued Badge: Interaction and Engagement Continuity Badge

Communicating Success Continuity Badge

Instructional Materials Continuity Badge

Online Assessment Continuity Badge

Universal Design Continuity Badge

NCCU Continuity Colleague Badge

Certified Financial Planner Badge

Community Partners Development Certification Badge

Crafting Effective Learning Badge

Designing Meaningful Assessment Badge

Online Course Design Badge

Utilizing Purposeful Instructional Materials Badge

Deploying Your Assignment or Project in Canvas

Designing Your Course in Canvas

Developing Multimedia-Based Materials in Canvas

Grading & Feedback in Canvas

Creating Quizzes, Tests & Exams in Canvas

Promoting Engagement & Interaction in Canvas
Frequently Asked Questions 
Info Accordions
Interaction and Engagement Continuity Badge

Communicating Success Continuity Badge
Instructional Materials Continuity Badge
Online Assessment Continuity Badge
Universal Design Continuity Badge
NCCU Continuity Colleague Badge
Certified Financial Planner Badge
Community Partners Development Badge
Crafting Effective Learning Badge
Designing Meaningful Assessment Badge
Online Course Design Badge
Utilizing Purposeful Instructional Materials Badge
Open badges are web-enabled versions of a credential, certification or learning outcome that can be verified in real-time, online.
We have partnered with Credly, a digital badging platform, to translate the knowledge, skills and competencies you have achieved into badges.
Credly is a digital badge platform that works with credible organizations to provide digital credentials to individuals worldwide.
You will receive an email notification from Credly (admin@credly.com) with instructions for claiming your badge and setting up your account.
You can easily configure your privacy settings in Credly. You're in complete control of the information about yourself that is made public.
No. This is a service we provide to you at no cost.
Although badges are simply digital image files, they are linked to data hosted on Credly platform. This link to verified data makes badges more reliable than a paper-based-certificate.
You can share your badge directly from your Credly platform (Credly account) to LinkedIn, Twitter and Facebook. You can also share it over email or embed it in a website as well as in your email signature.
Yes, you can download your badge from the Share Badge page. Your downloaded badge contains Open Badge Infrastructure (OBI) compliant metadata embedded into the image. This allows you to store your badge on other OBI-compliant badge sites, such as the Mozilla backpack.
You can find answers to frequently asked questions here: support.credly.com.
If you have questions about the badging initiative or how to accept your badge, contact the Office of e-Learning at oel@nccu.edu.