Program boasts nearly 90% retention rate; 100% of first cohort graduated or pursuing second degree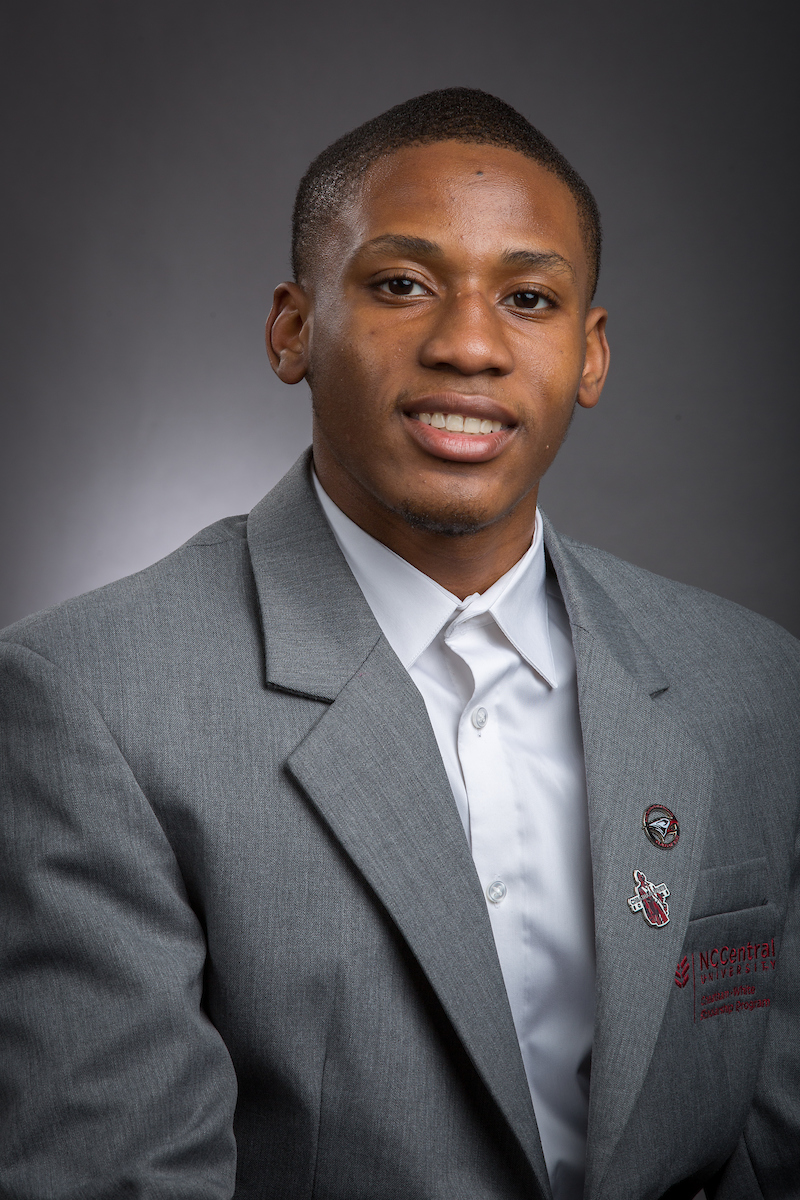 Anyone looking for proof that the Cheatham-White Scholarship Program at North Carolina Central University (NCCU) is working should look no further than Phineas Nyang'oro.
A member of the second cohort of the prestigious program, which debuted on campus in 2018, Nyang'oro earned a physics degree from NCCU and, in May, an electrical engineering degree from North Carolina State University.
This summer, he interned with Idaho National Laboratory through the GEM Fellowship Program, which offers master's and Ph.D. students access to dozens of the top engineering and science firms and universities in the United States. Nyang'oro will begin studying for his Ph.D. in engineering this fall at the Massachusetts Institute of Technology.
He learned about the Cheatham-White Scholarship Program from a counselor at Josephine Dobbs Clement Early College High School in Durham, named after the first Black woman to serve on Durham's Board of Education.
"I think what I enjoyed the most was really the community," Nyang'oro said. "I met some of my best friends through the Cheatham-White Scholars Program. They were also in electrical engineering and physics, and we made a personal connection. I'd recommend the Cheatham-White Scholars Program because there are a lot of great students and faculty involved. You're definitely going to be taken care of."
The Cheatham-White Scholarship Program requires students who are exceptional scholars with a wide range of interests, are proficient in both the arts and sciences, and demonstrate leadership potential and a strong commitment to service.
To find qualified students, officials rely heavily on high school counselors – like the one who informed Nyang'oro – to spread the word about the fully funded, four-year scholarship that covers full tuition and fees, housing, meals, textbooks, a laptop, travel and personal expenses. It also provides four summers of fully funded enrichment and networking opportunities that may include studying abroad.
NCCU sends links to high school students who apply to the university and have weighted 4.0 GPAs. NCCU Cheatham-White scholars have an average cumulative GPA of 4.42, an average ACT score of 28.8 and an average SAT score of 1,322, according to the program's website.
Applications close Nov. 1, and each February on Scholars Day, qualified students come to campus for interviews, a chance to tour NCCU and to learn more about Cheatham-White and other scholarships NCCU offers. Officials are careful to mix in a little fun on Scholars Day for prospective students. This past year, they were treated to an Eagles basketball game in historic McDougald-McLendon Arena.
Parents also attend Scholars Day to ask questions and learn program specifics.
Participants go on a camping trip before the fall semester begins. They learn survival skills designed to foster team building and help students prepare for obstacles that may arise during their tenure at NCCU.
Starlett Mack, associate director of University Scholars, has worked at NCCU since May and can't say enough about the Cheatham-White Scholarship Program, which graduated its first cohort of students in May 2022.
During the Aug. 6-10 camping trip, Mack hiked with the students on the first and last days, but slept at a separate camp.
"Students can call me in case there are any issues, but it's very important they don't have anything interrupt them as a cohort," Mack said. "Though they'll be working closely with me during the next four years, my presence on the camping trip could have changed the dynamic of their interaction, so I'm not a big part of it."
Nyang'oro remembers his cohort's camping trip well.
"They took us to Pisgah National Forest, and we stayed a week," he said.  "It was very difficult, a 20-mile hike there and back. I think the whole idea was of having shared experiences. It was really interesting and unforgettable."
Traveling abroad during spring break is another significant part of the Cheatham-White Scholarship Program, which includes structured study hall hours and workshops on relevant topics such as resume writing.
The program boasts a retention rate of nearly 90% and all participants from the first cohort – class of 2022 - have graduated with the exception of two students who are currently pursuing a second degree from NCCU. Additionally, two scholars from the second cohort – class of 2023 – graduated within three years.
"Most of the students who graduate as Cheatham-White scholars go on to complete graduate degrees, law degrees and medical degrees," Mack said. "One student in the first cohort completed her law degree in two years."
Mack said Cheatham-White scholars like Nyang'oro are destined for greatness. This fall, he'll conduct research to improve power grids, specifically in Puerto Rico. Nyang'oro hopes to learn enough to eventually help improve existing grids in Tanzania, where his parents are from.