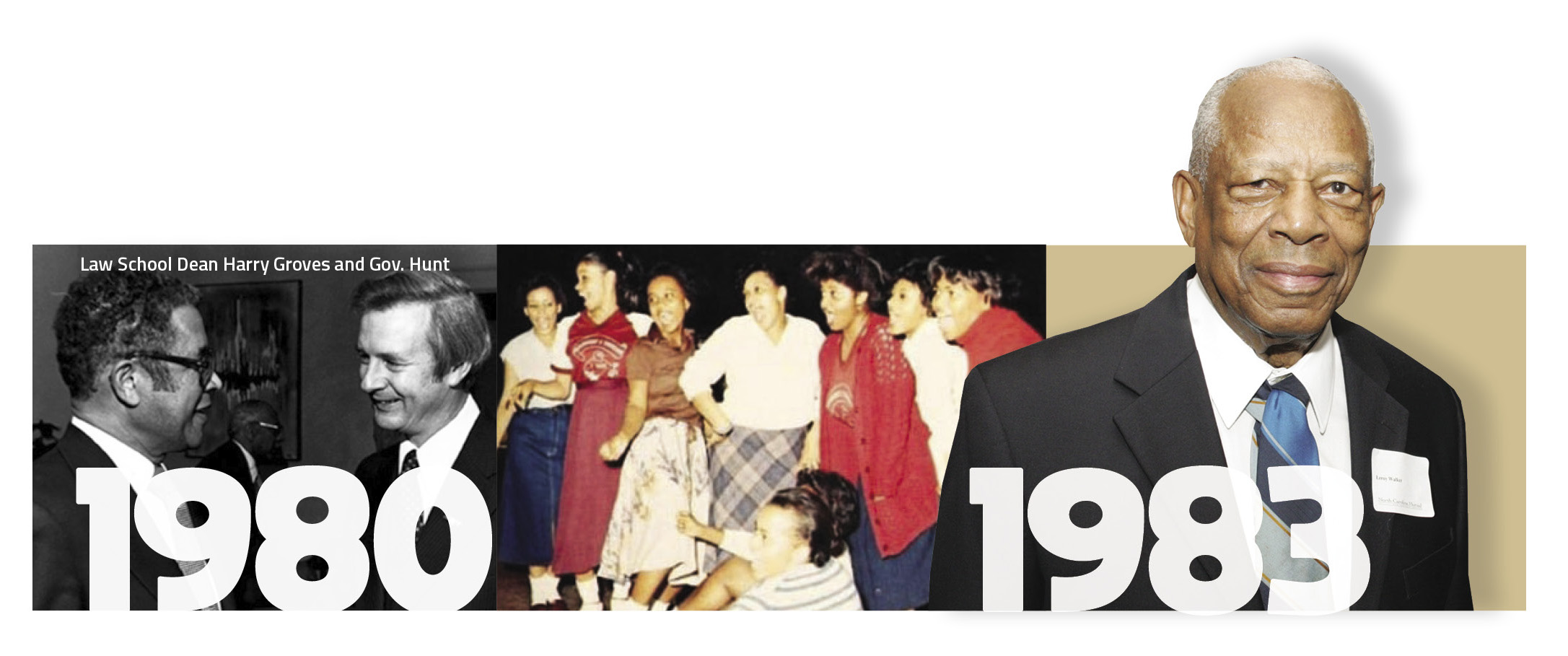 1980 • The new Albert L. Turner School of Law building was dedicated on Sept. 19. Guest speakers included Gov. James B. Hunt and U.S. Supreme Court Justice Potter Stewart.
1980 • The Choir Ball was started by Neal Bailey as part of Homecoming Week.
1980 • The first Gathering of Eagles was held to honor men and women athletes.
1981-1994-The Bimbe Festival was celebrated on campus.
1982 • Alumna Dora E. Carrington '59, became the first woman to serve as president of the NCCU National Alumni Association.
1982 • Alumnus and former registrar B. T. McMillon began serving as volunteer historian and archivist for the university, a post he held until his death in 2013. The post is now held by his protégé, history professor Andre Vann.
1983 • On July 1, Dr. LeRoy T. Walker, became interim chancellor after serving as chair of the Department of Physical Education and Recreation and vice chancellor for University Relations. He was formally named as chancellor in 1986.
1984 • Jesse Jackson visited campus for a voter registration drive.

1985 • The university celebrated its diamond anniversary.
1985 • The Athletics Hall of Fame honored pioneering athletes Marian T. Alston, William M. "Bill" Bailey, Mary J. Boyd, Annette L. Bryant, Clarissa A. Bryant, Willie L. Incorminias, Alice H. Dolphy, Maggie L. Lee, Thelma F. Smith and Louise M. Shipman.
1986 • On July 1, former School of Business Dean Tyronza R. Richmond succeeded Walker as chancellor.
1989 • The men's basketball team captured the NCAA Division II Championship, defeating Southeast Missouri State 73-46.
1991 • Alumnus Daniel T. Blue Jr., Class of 1970, was elected speaker of the N.C. House of Representatives and was reelected in 1993.
1991 • The McDougald-McLendon Gymnasium was rededicated to include the name of former basketball pioneer and coach John B. McLendon.
1991 • Professor Mary E. Wright became the first female to serve as dean of the School of Law, one of only two African American women then serving in that capacity nationwide.
1992 • Alumna Eva M. Clayton, Class of 1962, became a member of the 102nd Congress to fill a vacancy. She was re-elected four times.
1993 • Attorney and NCCU alumnus Julius L. Chambers was named as chancellor, becoming the first alumnus to lead the university. He retired in 2001.
1993 • A recital by guest musician Dr. Herman D. Taylor helped dedicate the new M.P. Moller pipe organ installed in B.N Duke Auditorium.
1993 • The Alumni Association reconstructed the University Bell Tower (Shepard Bell) and dedicated it during Homecoming activities.
1995 • In January, the C. D. Spangler Foundation provided a gift to create the Daniel T. Blue Jr. Chair in political science.
1996 • The North Carolina Central University Jazz Program produced its first compact disc, and the Jazz Ensemble performed at the Montreux Jazz Festival and at Euro-Disney in Paris.
2000 • A January storm dropped 20 inches of snow in Durham.
2000 • In November, a bond referendum was approved overwhelmingly by N.C. voters, generating $3.1 billion for higher education in the state, including $145 million for NCCU.
2003 - The Golden LEAF Foundation awarded $19 million to establish the Biomanufacturing Research Institute and Technology Enterprise (BRITE). This was the first step in creating the university's doctoral program in biology.
2003 • The Class of 1983 dedicated a memorial plaque in honoring fallen Eagle alumnus Harry Glenn, who died on Sept. 11, 2001, at the World Trade Center.
2004 • The Josephine Dobbs Clement Early College High School opened its doors with 84 ninth-grade students in the classroom wing of the NCCU School of Education building.
2004 • The James E. Shepard House on campus was dedicated during Founder's Day exercises in October.
2005 • The 95th Anniversary Legacy Gala was held on Nov. 4.
2005 • University photographer and alumnus Alex M. Rivera Jr. was given the Lifetime Achievement Award for his years of service.
2005 • A roundtable discussion was held featuring the university's four living former chief executives: Albert N. Whiting (1966–1983), LeRoy T. Walker (1983–1986), Donna J. Benson (1992–1993), and Julius L. Chambers (1993–2001).
2007 • The Rev. Bernice A. King delivered the annual Martin Luther King, Jr. Day Address.
2007 • The women's basketball team won the CIAA championship, as the NCCU Department of Athletics transitioned to Division I.
2007 • The new H. M. Michaux Jr. School of Education Building was dedicated on June 15.
2009 • A bell ringing ceremony and Charter Day Program took place in anticipation of the 100th anniversary of the National Religious Training School and Chautauqua for the Colored Race founded in 1910.
2009 • Kelly-Riddick Stadium was transformed with the installation of artificial turf and a modern scoreboard to enhance the visitor experience.
2010 • Radio personality Tom Joyner delivered the Centennial Commencement address and gave each graduate $5.
2010 • Chancellor Charlie Nelms hosted a Centennial Birthday Bash that included ringing of the Shepard Bell by Anica Green, great-great-granddaughter of the university founder.
2010 • NC Governor Bev Perdue brought remarks and greetings.
2010 • The last print edition of the yearbook was published for the graduating class of 2011.
2011 • The Marching Sound Machine performed in the Rose Parade in Pasadena on New Year's Day.
2012 • The historic lunch counter from Durham's Woolworth store, site of student-led sit-ins for civil rights, was installed in the James E. Shepard Memorial Library during a rededication ceremony.
2012 • First Lady Michelle Obama spoke to a crowd of 3,000 on campus as part of President Barack H. Obama's re-election campaign.

2013 • In February, Dr. Debra Saunders-White was elected as the 11th and first permanent female chancellor of the university. Saunders-White was installed in 2014 and took a leave of absence two years later after a cancer diagnosis. She died in November 2016.
2015 • Eric Kimber became the first Eagle to sign with a Major League Baseball organization, the Kansas City Royals.
2016 • Andrew Vernon became first Eagle to be drafted in by Major League Basketball as a member of  Milwaukee Brewers in 2016.       
2016 • The Eagles won the MEAC football championship and made an appearance in the Celebration Bowl.
2017 • Provost Johnson Akinleye was named as interim chancellor in January 2017.
2017 • The Eagles made their first appearance in the NCAA Basketball Tournament.
2017 • Graduate students Rasheena Edmondson, Helen Onabanjo and Elena Arthur received their Ph.D.s in integrated biosciences, the first doctorates awarded at NCCU in more than 50 years.
2018 • Dr. Akinleye was formally installed as the 12th Chancellor in April 2018.
2018 • Shepard Memorial Library revitalized the NCCU Undergraduate Research Journal as a digital publication that is part of the Open Journal Systems.
2019 • Clyde R. Hoey Administration Building was renamed as James E. Shepard Administration Building. 
NCCU officially broke ground on construction of two new residence halls and a 100,230 square-foot student center.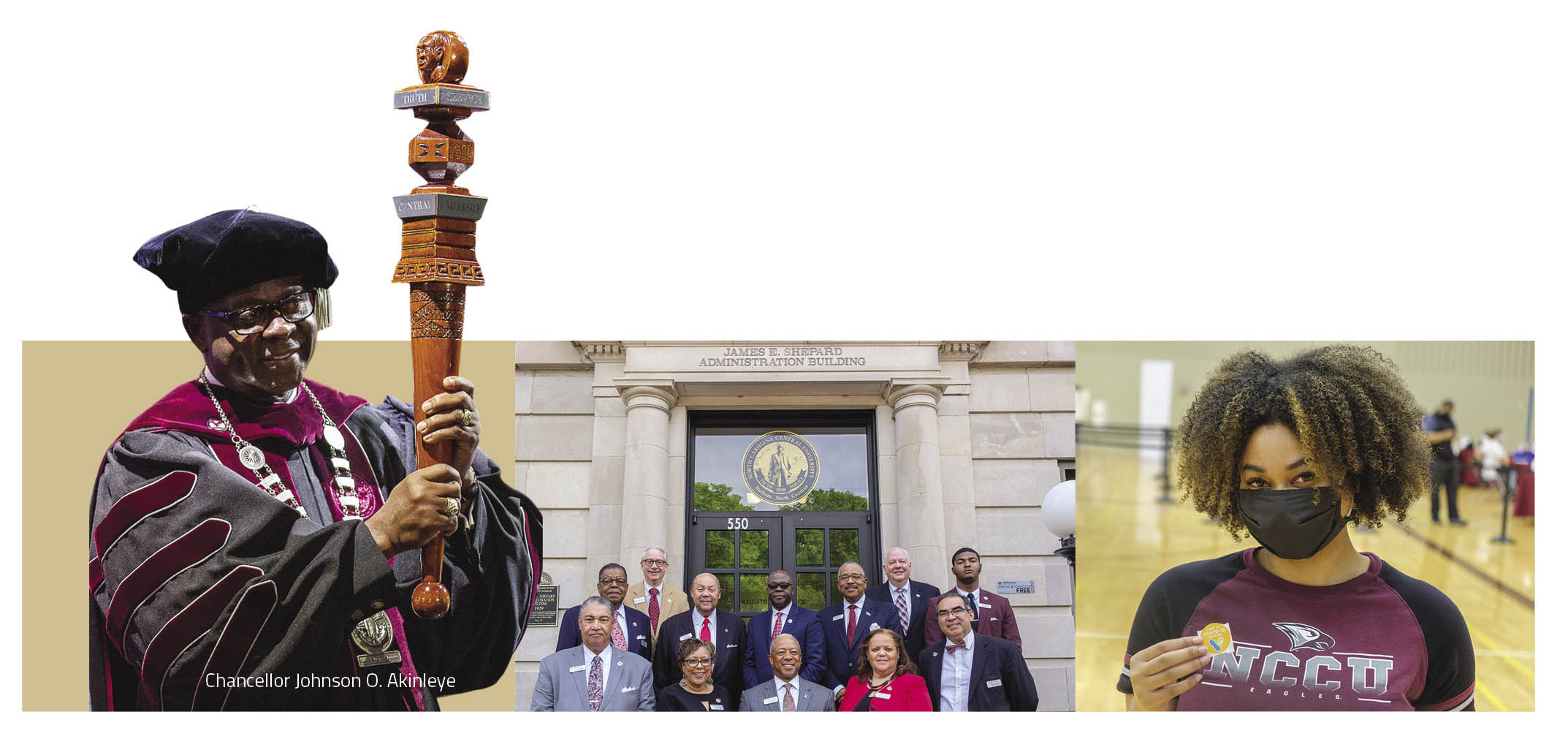 2020 • Shepard Library received $35,000 to establish the Renee Flood Stiff Professional Development Endowment Fund to support research and its Government Documents Collection.
2020 • Two new suite- and apartment-style residence halls, George Street Residential Complex and Alston Avenue Apartments, open.
2021 • The university opened its doors as a vaccine clinic site for the campus and community in response to the COVID-19 pandemic.