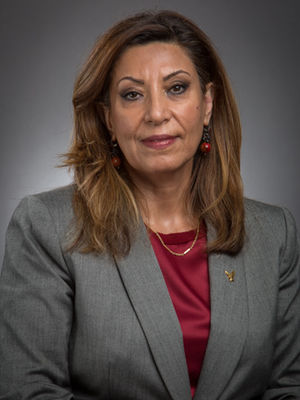 It is truly an honor and a privilege to serve as Associate Provost and Dean of the School of Graduate Studies (SGS) at North Carolina Central University (NCCU). I am delighted to welcome you and tell you about NCCU and our graduate programs. In 1925, NCCU became the first public liberal arts institution for African Americans in the nation and offered its first graduate-level courses in 1939. The University is now a master's comprehensive institution that offers over 30 master's degrees, a Juris Doctor, and a PhD in Integrated Biosciences to a diverse student population.  We have kept our promise of "Truth and Service." NCCU has been selected as a top-ranked HBCU over and over again by US News & World Report and our School of Law has been ranked as the "Best Value Law School" in the country year-after-year by National Jurist.
This is a very exciting time to be a part of NCCU's family. The faculty and students are involved in research ranging from biomedical/biotechnology and pharmaceutical sciences to social and behavioral sciences focusing on solving problems that affect the citizens of North Carolina. They are also conducting research on health disparities, nanotechnology/carbon nanotubes, robotics, polymers, and green energy. Research efforts at NCCU are designed not only to prepare students as the next generation of scientists but also to address current and future challenges that impact our society economically and/or socially⁠—locally, nationally, and globally.
The Bureau of Labor Statistics estimates that "occupations that typically require a master's degree for entry are projected to grow the fastest, 18.4 percent, from 2012 to 2022."  Whether you would like to be involved with cutting-edge research or are trying to advance in your current job, NCCU has a program for you. 
Please take your time to explore our website and catalog to learn more about us and our programs.  Thank you for your interest in NCCU, and I look forward to you joining the Eagle Family!
Sincerely,
Jaleh Rezaie, PhD
Associate Provost and Dean, Graduate Studies