By day, NCCU doctoral student Kala Nwachukwu researches the neuroimmune system within the brain and how it responds to binge-like consumption of alcohol in the Mary M. Townes Science Complex in the laboratory of Dr. Alex S. Marshall, assistant professor in Biological and Biomedical Sciences.  
After hours, she nurtures a passion for her pursuit of finding rare, limited-edition sneakers or working on details for her next Kick Back Sneaker Expo, which she founded five years ago. 
Nwachukwu, a second-year student in NCCU's integrated biosciences program, has been equally fascinated with STEM (science, technology, engineering, and mathematics) and sneakers since grade school. 
"I remember doing math workbooks in the third grade — they were always fun for me," Nwachukwu said. "I've always enjoyed discovering the unknown. What's so captivating about science is that you still have so much more to learn." 
The Upper Marlboro, Md., native entered NCCU her sophomore year, after a year at Belmont Abbey College near Charlotte on a full-ride basketball scholarship. She wasn't the first Eagle in her family: her older sister, Jori, played basketball on the CIAA-winning Eagles women's basketball team and graduated in 2011.  
As a biology major, Nwachukwu met Dr. Antonio Baines, associate professor in the Department of Biological and Biomedical Sciences, who took her under his wing. 
She completed a genome science-based internship at Duke University in 2010 before being selected as an Amgen Fellow at Stanford University School of Medicine the following year. 
"At Stanford, I first saw and did work on neuroscience and neurodegenerative diseases," she said. "When I later learned that Dr. Marshall was doing similar work at NCCU, I knew I wanted to get back in that type of lab when I started my Ph.D. program." 
After her bachelor's degree, Nwachukwu earned a Master of Science degree at the University of North Carolina at Chapel Hill in cell and molecular physiology. She then taught science for two years at Reedy Creek and Neal middle schools in Durham. 
"The scores on the science exams for students in her classes went up," explains her aunt, Kimberly Phifer-McGhee, who is director of Distance Education at NCCU. 
But seeing only a few African Americans in staff meetings, internships, and classrooms, Nwachukwu felt drawn to pursue her Ph.D. 
"We have to see more of us," she added.
Best Science Nerd Moment?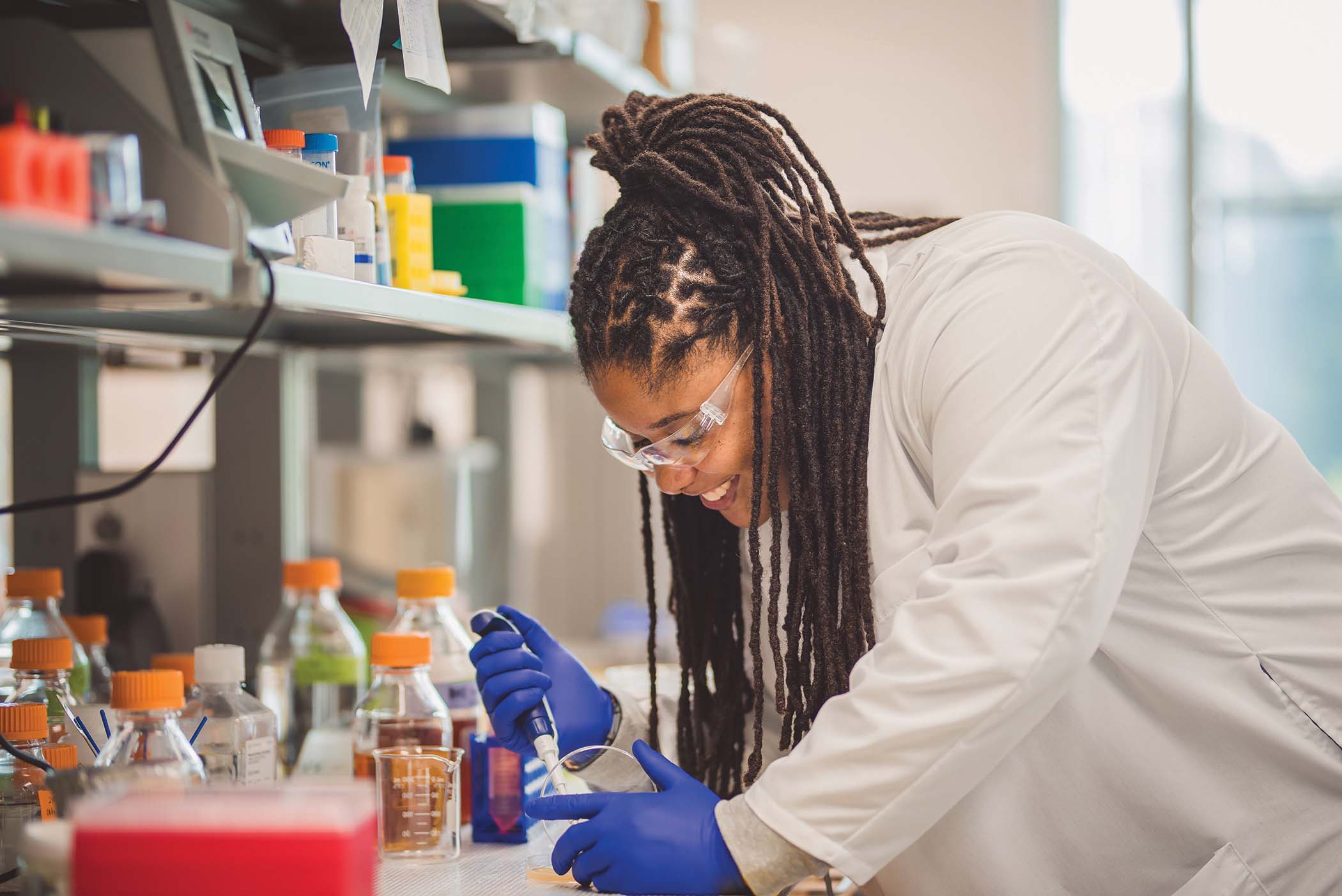 "In one of my internships, we had the opportunity to meet the people who provided their samples for the research we were conducting. When you are doing 'bench' science, you may forget about how it will impact society. At that moment, I put two and two together and  I realized how I am contributing to science and that what I am doing is serving a purpose. It was my 'aha' moment."