North Carolina Central University's (NCCU) Department of Hospitality and Tourism Administration has another accomplishment under its belt: OnlineU has recognized the online bachelor's degree in Hospitality Management as a high return-on-investment program for students.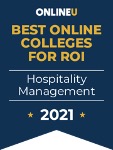 In the category of "Online Bachelors in Hospitality Management with the Highest Return on Investment," NCCU was ranked No. 12 in the United States .
The ranking was drawn from median post-graduate salaries of over 450,000 alumni, as listed on the U.S. Department of Education's College Scorecard.
OnlineU spokeswoman Adria Vaughan said the informational site offers college performance data to potential students based on the "proven outcomes of real alumni." 
"NCCU Hospitality and Tourism Administration alumni had an impressive 10-year ROI (return on investment), resulting in your placement among the nation's top online schools," Vaughan said.
Po-Ju Chen, Ph.D., chair of the Hospitality and Tourism Administration Department, credits the positive ranking to the hard work of faculty, staff and students enrolled in the program.
"As our program continues to grow and our online reach extends, we look forward to continuing to provide state of the art programming that prepares hospitality leaders for immediate contribution to an ever-evolving hospitality and tourism industry," Chen said.