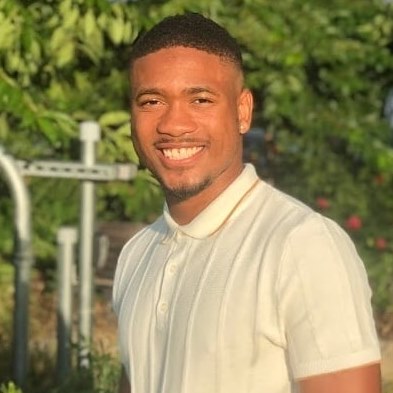 NCCU student Tyler Fisher donated 650 copies of his children's book "Fried Chicken and Yams" to Durham area elementary schools to share his memories of with a younger generation.
Fisher, 20, a junior mass communications major from Charlotte, published "Fried Chicken and Yams" in October of 2020 He donated the books to C.C. Spaulding and Fayetteville Street elementary schools, where he worked as a volunteer during his freshman and sophomore years.
"Fried Chicken and Yams" tells the story of Alex, a young boy who is picky about his school lunch and his journey to learning the importance of gratitude in any situation.
"The idea came from past experiences living in poverty, and what I witnessed growing up," Fisher said. "What motivated me was the acts of kindness I received growing up. My family was not always fortunate enough to have all the basic resources, however, I remember all the acts of kindness I received growing up, and I wanted to replicate that."
After suffering a career-ending injury while playing on the varsity high school football team for the Eagles, Fisher turned to writing in hopes that his experiences could help others.
"Both my fibula and tibia cracked on my right leg," he said. "It took me five or six months to fully walk again. Then it took another four months to run and lift weights close to how I used to.  Writing this book meant a lot, because it helped me tell my story through a character that I related to."
The tale was the second book Fisher has had published. He said his first, "Cardiac Cardinals," also helped him get through a period of adversity. In "Cardiac Cardinals," Fisher shares "how I came to find my self-worth through the adversity of high school football."
He is currently working on a third book about the power of affirmations.
"Fried Chicken and Yams is a stepping stone to doing even greater things in the future," Fisher said.