North Carolina Central University (NCCU) will host a number of events in January to honor the life and vision of the late Dr. Martin Luther King Jr.
Events are open to a limited number of NCCU students only; one program will be conducted virtually and is open to the public. Each event will be done in accordance with under health and safety guidelines and adhere to the North Carolina State Executive Orders. All participants are required to wear face coverings, practice proper social distancing and adhere to all Centers for Disease Control and Prevention guidelines.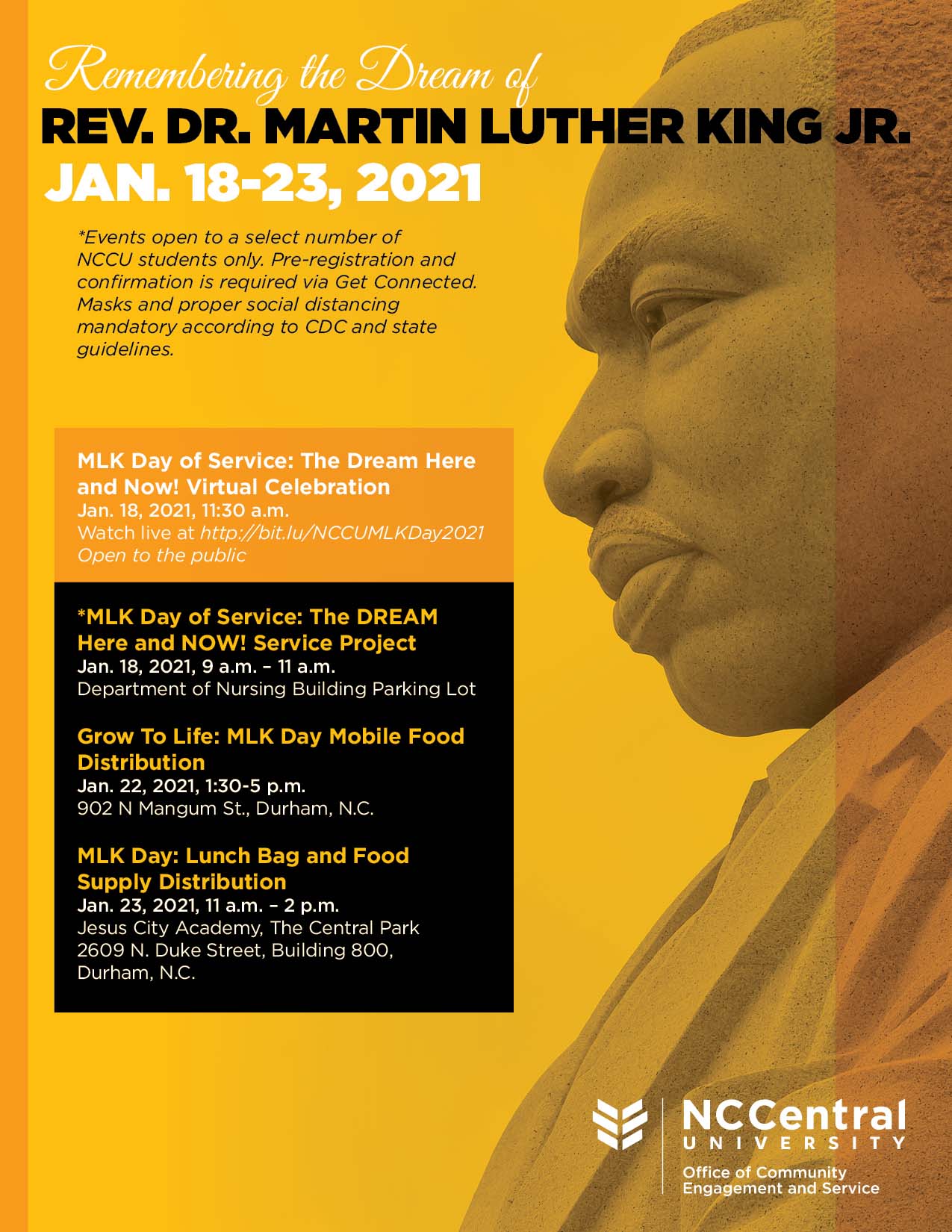 On Monday, Jan. 18, NCCU's Office of Community Engagement and Service will sponsor the annual MLK Day of Service on the university's campus in the Department of Nursing Building parking lot from 9 to 11 a.m.
The signature event will provide a small number of NCCU students with the opportunity to commemorate King's memory, assist the community and earn hours of service. Activities will include assembling package care kits to support community organizations Families Moving Forward, JJ Henderson Towers and Grow to Life.
The celebration will continue at 11:30 a.m. with the MLK Day of Service: The DREAM Here and NOW! virtual program. To register, visit http://bit.ly/NCCUMLKDay2021.
Additional community events honoring Dr. Martin Luther King Jr. in January include:
Friday, Jan. 22, 1:30 to 5 p.m.: Grow To Life: MLK Day Mobile Food Distribution at 902 N. Mangum St., Durham, N.C.
Saturday, Jan. 23, 11 a.m. to 2 p.m.: MLK Day Lunch Bag and Food Supply Distribution at Jesus City Academy, 2609 N. Duke Street, Building 800, Durham N.C.