Work by Zimbabwean graphic designer Chaz Maviyane-Davies will be featured at the North Carolina Central University (NCCU) Art Museum, as part of the museum's spring exhibition for the 2021-2022 season.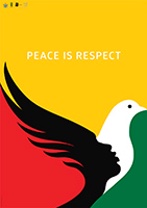 The exhibit, titled "Maviyane-Davies Creative Defiance Exhibition," will open with a free public reception and discussion with Maviyane-Davies on Wednesday, Feb. 16, from 4:30 to 7 p.m. The exhibit will remain on display through Thursday, April 14. 
Maviyane-Davies uses graphic design to influence social development and change. His work has been shown in more than 85 major international exhibitions. He has also successfully produced more than 27 one-man shows both nationally and internationally.
In response to adverse political conditions in his home country and with the confrontational nature of his work, Maviyane-Davies moved to the United States in 2001. He currently serves as professor emeritus at Massachusetts College of Art and Design.
He is the author of "A World of Questions: 120 Posters on the Human Condition," which contains 120 large posters that provides a view of original imagery to spark meaningful conversations.
Maviyane-Davies earned a bachelor's degree from Middlesex University London and a master's degree from Central School of Art and Design in London, England.
The NCCU Art Museum is on Lawson Street across from the Farrison-Newton Communications Building. It resides on one level with no steps at the entrance. Every effort is made to make all NCCU Art Museum exhibits accessible to those with physical challenges.
The museum is operating in accordance with health and safety guidelines and adheres to North Carolina State executive orders. All visitors are required to wear face coverings, practice proper social distancing and adhere to all Centers for Disease Control and Prevention guidelines. 
The museum's current operating schedule is Sunday, 2-4 p.m., and Tuesday through Friday, from 9 a.m. to 4:30 p.m. Due to COVID-19 concerns, the museum occupancy is limited. To schedule a group visit and for more information, please call 919-530-6211.