A call from the director of Crayons2Calculators (C2C) prompted students in Dr. Henry McKoy's entrepreneurship course to devise upgrades for an inventory system.
For the past 13 years, C2C has supported the educational and creative needs of teachers and students in the Durham Public School System by maintaining free and unrestricted access to a warehouse filled with much-needed classroom supplies.  The supplies are donated by a number of local public and private agency sources in the Triangle, as well as individual gifts and grants.
NCCU alumna Dr. Eunice O'Neal Sanders ('77,'82,'94), a retired Durham Public Schools administrator, is co-director of Crayons2Calculators and understands the need for a strong inventory system so she called on NCCU students specializing in entrepreneurship to analyze the situation. Their task was to reduce the time it takes to count and enter items into the warehouse database, improve accuracy and accountability, and streamline the inventory system technology. 
"As a Triple Eagle, I enjoy finding ways to give back and be a resource to my alma mater," Dr. Sanders said. "Having the opportunity to work with NCCU business students on a project that could challenge their problem-solving capabilities and creativity was most appreciated. The students answered the charge with excellence, and we now have a system in place that provides us with the level of efficiency we require."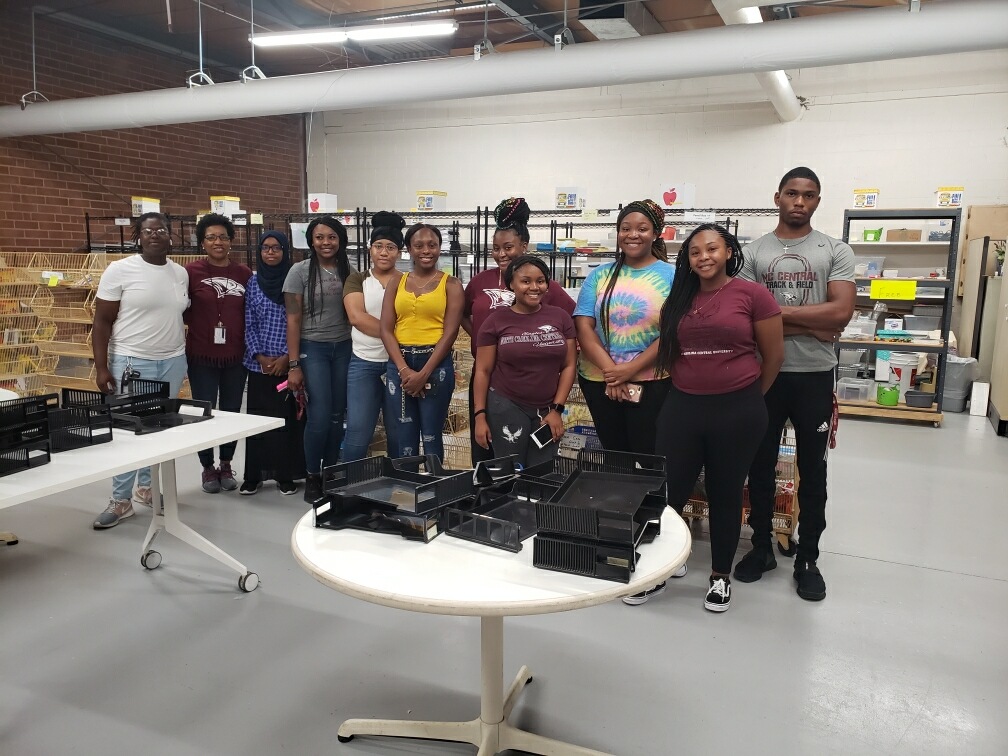 The solution involved a two-stage approach to transforming the existing inventory system. Stage one used GoogleForm, an online cloud-based application to turn what used to be paper documents into an e-form. Using a QR code, the system may be easily accessed by donors as well as teachers and others who benefit from using the items.
The second part of the solution involved a cloud-based inventory management software system called Asset WASP by Cloud. It gives C2C the ability to transition their inventory database onto this platform, which includes a number of additional features, including pre-built reporting and barcode scanning functions.
Rising NCCU senior Hollan Strepay will remain as technical coordinator throughout the implementation of this proposal. 
"I believe helping C2C implement this solution is important; the ways we work are changing," Strepay said. "Leveraging these technologies will allow C2C to make data-driven decisions, enhancing their overall goal of serving the educational and creative needs of students in Durham Public Schools."
C2C will continue to work with NCCU marketing students on a campaign to increase awareness of the agency's offerings and encourage more donations to this worthwhile cause.