Doctors say most adults who want to stay healthy should get at least 30 minutes of moderate exercise five days a week or 20 minutes of intense aerobic exercise three days a week.
But even those minimum recommendations can pose a challenge during a pandemic, when you are stuck at home working or caring for family members and away from regular routines.
That's the situation facing Amy Linder, Ph.D., an assistant professor in Kinesiology and Recreation Administration at NCCU.
"I may be working from home but I'm even busier than I would be at the office," Linder said.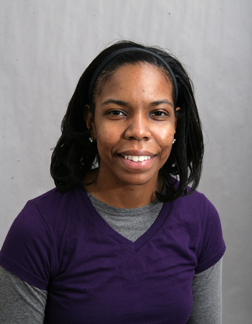 Under these circumstances, staying healthy and fit can require some real planning. Luckily, Linder has the expertise to carry it through.
Accustomed to working out on machines at the university Rec Center, Linder now recommends a substitute for making muscles work hard at home.
"I use resistance bands. I have them in different strengths, so it's possible to work my arms, legs, shoulders and chest – just about anything that resistance machines can do," Linder said.
For the uninitiated: resistance bands are like large rubber bands that can be stretched to create a tug of resistance and cause muscles to contract, similar to the action of pushing against the weight on a machine or lifting heavy objects.
But conveniently, bands are smaller, cheaper and easier to use than exercise machines and are sold at big-box stores and drugstores, as well as sporting goods outlets.
Although using resistance bands works for most types of strength training, Linder recommends adding crunches or planks to build up the body's core.
"Core strength affects everything," Linder said.
When doing crunches, proper form is critical to avoid creating problems for the lower back, Linder said. She prefers planks, where elbows and toes hold the outstretched body still, like a plank, strengthening a number of core areas, including the oblique muscles surrounding the abdomen.
Many online and YouTube resources exist to get you started on an at-home exercise habit.
Catch a Zumba or step class if you are into group activities and could use a hit of aerobics.
Linder recommends darebee.com, a web site offering a variety of options with clear instructions, including daily posts for a workout routine using planks, squats and other straightforward moves.
Other online options she likes include aworkoutroutine.com, which provides a step-by-step guide for building a custom workout that fits your needs and schedule. She also recommends Fitwirr.com, which covers exercise, weight loss and other components of a healthy lifestyle.
How will someone know when their fitness levels start to improve?
"Your body lets you know," Linder said. "Start slowly, and work your way up."