It might be easy to mistake room 3221 in the university's Mary Townes Science Complex for a miniature manufacturing plant tucked away on campus. 
A line of robots and 3-D figures dot the room, and a sense of innovation is in the air as students and faculty members stream in and out, making use of 3-D printers, CNC machines for automated tool control, water jets and most any other tool an aspiring engineer or novice designer could want.  
What is a little harder to notice at first glance, however, is the Fab Lab's instructional purpose: to teach creative people how to turn their ideas into reality.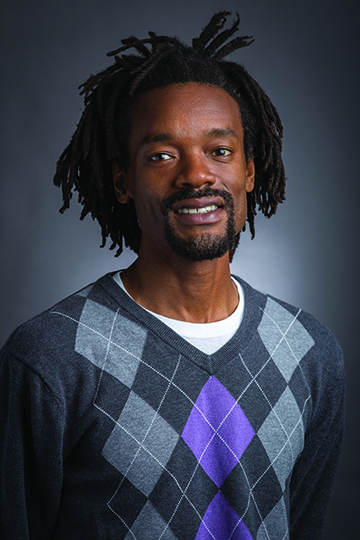 "Here, you learn by doing," said Eric Saliim, a biology instructor who has overseen the lab since it opened in 2015 with support from the Massachusetts Institute of Technology (MIT). 
Saliim said MIT's only condition was that the Fab Lab resources be shared with members of the community. 
With that directive in mind, the lab hosts Fab Fridays for students in Durham schools twice each month. So far, Fayetteville Street Elementary, Pearsontown Elementary, and Shepard Middle School have participated by sending students over to work in the lab. Members of the public can also use the lab and even get an orientation on the equipment. 
Activity in the Fab Lab takes place in three spaces: a discussion space, design space and the documentation center. 
In the discussion space, students plan their projects and think through the ideas they want to pursue. Projects vary from 3-D printing to new clothing concepts to inventive musical instruments.  
In the design space, makers learn how to create design layouts for their projects in a variety of open source software that was written by MIT researchers, as well as how to write to computer code in eight different languages. 
In the documentation center, creators can use video and audio recording and editing hardware and software to put the final touches on their projects. 
Over the past five years, these spaces have spurred real innovation and entrepreneurship, resulting in technology that has marketing potential.  
Among innovations developed at the Fab Lab was the "Overwatch" app, which enables students to discreetly connect with campus security at the push of a button. 
Recently, interest has expanded at the lab for developing drones, also known as unmanned aircraft systems.   
Builders are learning to solder circuit boards and program LED lights for two different classes of drones. They even have opportunities to train with flight simulators in the lab to hone their skills before heading outdoors. All drones are flown via first-person headsets that let pilots see the viewpoint of the craft. 
Saliim said the lab is working toward establishing a drone racing team that will eventually compete against others in a Triangle-area league, which is also in development. Once the league and team rules are worked out, official racing can begin, he said.  
Academic competitors could include teams from the University of North Carolina at Chapel Hill, North Carolina State University, Duke University, Elon University, University of North Carolina at Greensboro, Wake Forest University and the North Carolina School of Math and Science.  
The lab's five-year track record of growth is due in no small part to the backing of NCCU alumnus Clarence G. Williams, Ph.D., a professor emeritus of urban studies and special assistant to the president at MIT who was instrumental in the lab's creation. Other funding comes through grants from nonprofits and corporate partners.