Not all heroes wear capes and white coats; some wore scrubs while caring for the most vulnerable during the coronavirus pandemic.
As COVID-19 sickened millions across the world, nurses played key roles as first responders, earning widespread recognition for their skills and knowledge and for making personal sacrifices on behalf of the community.
That recognition may help the world get a better picture of the nursing profession, said Nursing Department Professor Erma J. Smith-King, Ph.D. "It has helped people realize the impact of the work that nurses really do," Smith-King said.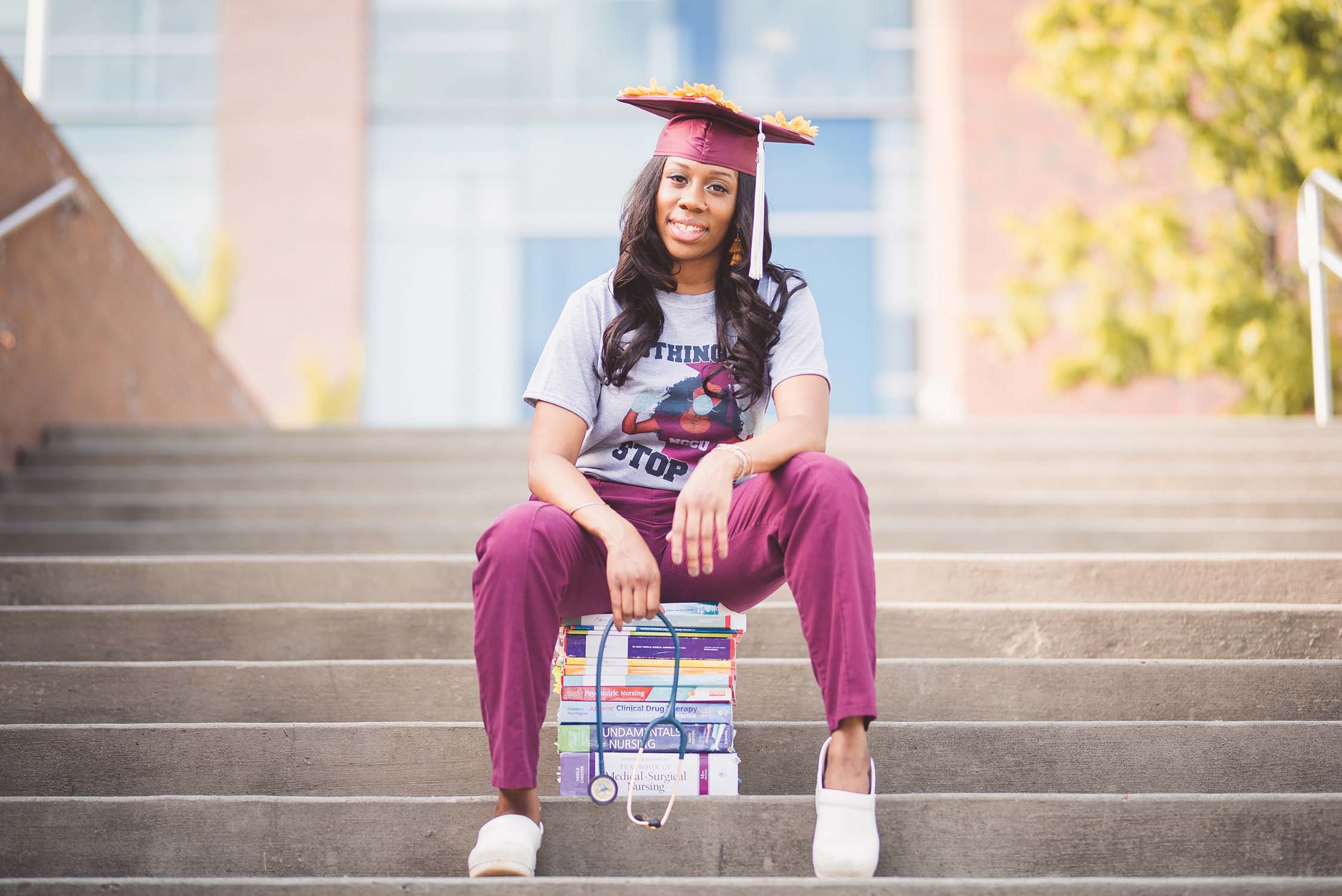 The newfound recognition is bolstering spirits among those whose field has seen better days. A 2021 American Nurses Foundation survey of 22,316 nurses reports about 40% considered leaving or were planning to leave their job in the next six months. In comparison, the turnover rate for bedside registered nurses in 2019 was approximately 16%.
The exhaustion and trauma experienced throughout the coronavirus pandemic has been often cited as reasons for switching professions. The Department of Nursing is helping bridge the gap and continues to make an impact on the well-being of North Carolinians and people around the world.
Recent graduate Tinasia Ingram, '20, cares for COVID-19 patients in Duke University Hospital's surgical trauma intensive care unit. During her spare time, she works as a tutor for NCCU nursing students because she knows the value of nursing education to the health care field.
"NCCU's offerings of hands-on training, including Eagle General Hospital and practice labs, are really helpful, especially during the pandemic," Ingram said. "Enrolling in a critical-care course and having clinical experience helped me obtain a specialty and my current job."
As a recent graduate going to work during the pandemic, Ingram has faced some challenges in the first year of her career. She said the training has helped her overcome obstacles. "My experiences at NCCU helped to prepare me to be a better nurse," she adds.
While the nursing profession spans a wide range of opportunities, many Eagle graduates choose to work in underserved communities and volunteer their spare time to special causes, a trend that has increased during the pandemic, .
"A lot of our graduates travel to places that are short on nurses," Smith-King said. "During the pandemic, that has included New York and other cities with nursing shortages."
Yolanda VanRiel, Ph.D., chair of the Nursing Department, says she is proud of the job nurses are doing as front-line workers, deploying their skills and knowledge of infectious diseases against the virus.
COVID-19 has shown us how valuable nurses are now and will continue to be in the future, VanRiel said. "People now see we are the front-line workers, whether there is a pandemic or not," VanRiel added.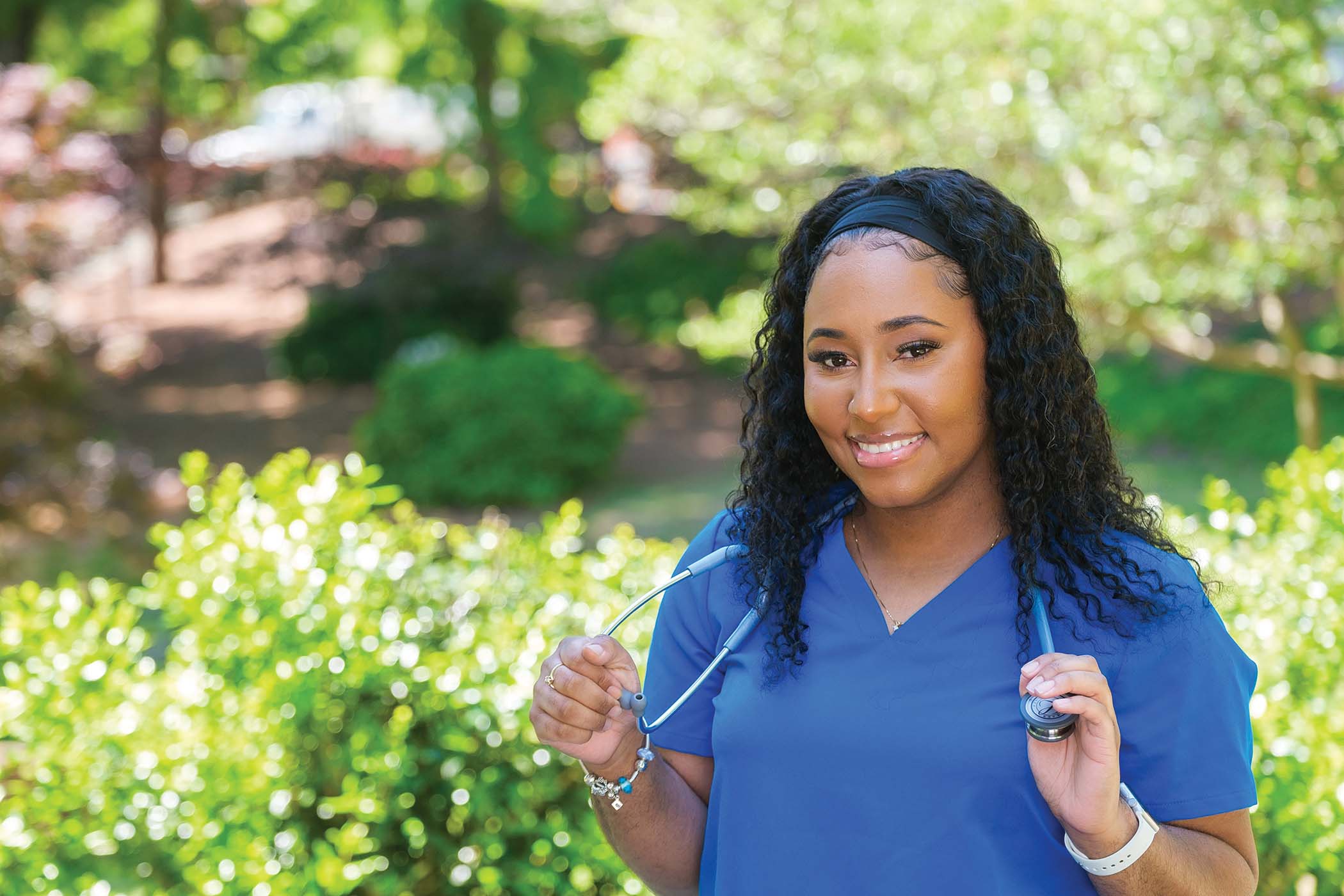 Micah Haymer, a fall 2019 graduate, began her professional career in nursing in early 2020. "Being a new nurse during this time has been very challenging, but I have learned a lot from my experiences," Haymer said.
Haymer's workday on a medical-surgical unit at Duke Regional Hospital was swiftly transformed into a COVID-19 treatment response effort to meet the growing need for acute care during the pandemic.
"I'm thankful for my professors that provided the groundwork for me to be a skillful nurse," said Haymer. "With the learning experiences in NCCU's Eagle General Hospital, and professors who went the extra mile for me to learn, I felt I was more prepared than most to do my job."
NCCU's nursing education program has been seeing increased demand in recent months, as the pandemic continued. About 110 students are now enrolled in the department.
Among recent accomplishments:
The Department of Nursing

was chosen by the National League for Nursing to receive a free faculty 

training series, "Excellence in Technology Innovation: Coaching for Excellence in Nursing." 

Sponsored by the Elsevier Foundation, the series was developed to help faculty at HBCU schools of 

nursing sharpen the critical thinking skills of next-generation learners and create a positive learning 

environment.

Only a small group of select nurse educators were chosen to participate. Smith-King led the program 

that included six additional NCCUfaculty participants: Pandora Dumas, DNP; Darlene Hicks, DNP; 

Valerie Jones-Cohen, DNP;  Sujayalakshmi Devarayasamudram, Ph.D.; Lily (Jian) Chen, MSN

; 

and Tajauana Robinson, MSN.

Department Chair Yolanda VanRiel, Ph.D.

was elected to serve as a governor-at-large by the 

National League for Nursing in September 2020. This premier organization is a 40,000-member 

association of nurse educators, health care agencies and organizations headquartered in Washington 

D.C. The NLN is led by a board of governors elected at-large by the membership for three-year terms.




     VanRiel also was selected to participate in the National League for Nursing's year-long Lead program, 

one of three tracks in the NLN Leadership Institute. Lead is designed for nurses in education and 

practice being challenged with rapid transition into leadership. VanRiel was the MSN Nursing 

Education Program  Concentration Coordinator for the University of North Carolina at Greensboro before being named as Nursing Department chair at NCCU.


     

VanRiel provided leadership to nursing students and nursing faculty volunteering in NCCU COVID-19 

Vaccination Clinic. Alumni and nurses in professional nursing organizations were also solicited to 

volunteer.

Alumnus Ernest Grant, Ph.D., '85 was recently named president of the American Nurses Association, 

the nation's largest nurses organization representing the

interests of the nation's 4 million registered 

nurses. Grant has over 30 years of nursing experience as an internationally recognized burn-care and 

fire-safe

ty expert. Prior to his appointment, he served as the burn outreach coordinator for the North 

Carolina Jaycee Burn Center at University of North Carolina at Chapel Hill (UNC) Hospital. Grant 

also serves as an adjunct faculty member in the UNC School of Nursing, where he engages with 

nursing students in the classroom and in clinical settings.

Assistant Professor Erma J. Smith-King

was awarded a $4,250 grant by Wake Area Health 

Education Center to develop a clinical wellness site at CAARE, a Durham nonprofit that provides 

services for individuals who are homeless or in financial need. The site will allow nursing students to 

address health and socio-economic disparities and practice evidence-based public health nursing and 

health education.

Former  Clinical Assistant Professor Brittany Baker, DMP

,

was one of six nurse-educators from 

across the state selected for the Invest in Nursing Faculty Fellowship, a leadership development 

program offered by the University of North Carolina at Chapel Hill School of Nursing. Through the 

program, Baker will spend a year participating in seminars and online workshops and then designing 

and implementing an innovative project to strengthen professional development and provide scholarly 

contributions in the field of academia and nursing.
     

Baker's interest in immunizations and health promotion launched her participation with NCCU's 

Advanced Center for COVID-19 Related Disparities (ACCORD) after she received funding 

to conduct research on the "Barriers and Acceptability to COVID-19 Testing, Contact Tracing, and 

Vaccination Among African Americans."