When asked to describe Oswald Boa-Amponsem, his faculty advisor, Dr. Gregory Cole, used the words "trustworthy," "mature" and "intellectually curious."
Boa-Amponsem, who is graduating with a doctorate in integrated biosciences, is a native of Ghana who leveraged talent and hard work to rise to the top of the educational ladder in America.
A married father of three, Boa-Amponsem, 38, takes his family responsibilities as seriously as his professional life. He has been working as a researcher in NCCU's labs for more than four years while completing the requirements for his doctorate, also working a second job as a janitor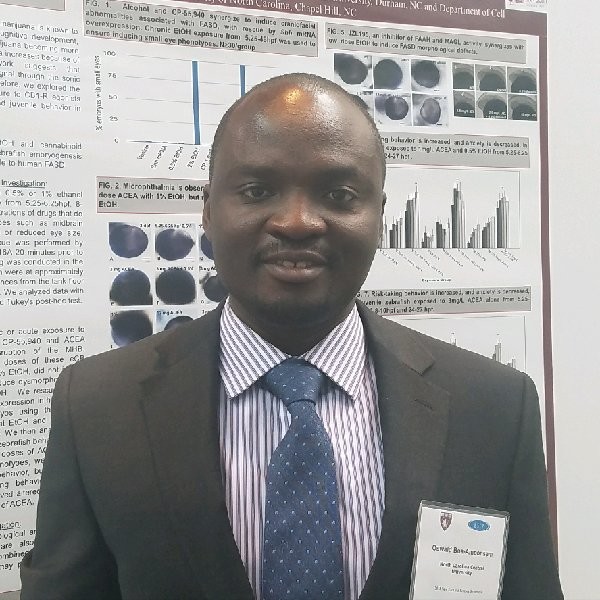 much of that time.
"I came here to earn a Ph.D., but also had to support my family and take the GRE (graduate record exam) before I could apply to graduate school," Boa-Amponsem said. "I was facing so many challenges I had to take the GRE twice before I was able to pass."
By the time he applied to NCCU, he had already earned an undergraduate degree in Ghana, where he investigated the antimicrobial properties of acacia leaves, and a master's in Sweden, where he researched tuberculosis. 
Among the highlights of his work at NCCU was co-authoring a groundbreaking paper in August 2019 on the effects of cannabinoid and alcohol exposure on fetal development. The paper was published in the Birth Defects Research Journal and was co-authored by Professor Cole and Chengjin Zhang, Ph.D., a research associate at Julius L. Chambers Biomedical/Biotechnology Research Institute, and others.
Cole said Boa-Amponsem has been a great asset to team.
"When I got to know Oswald, I saw that he was motivated, trustworthy, hardworking and had the intellectual curiosity needed to be successful as a Ph.D. student," said Cole, who served as his dissertation advisor and oversaw the graduate student's research.
"I think he has great potential and expect him to make some big research advances in his career."
Following graduation, Boa-Amponsem will begin work on post-doctoral research at the University of North Carolina, Chapel Hill, where his wife, Abigail, is now a nursing student. He hopes to continue the research he began at NCCU on the prenatal effects of cannabinoids and alcohol.