For NCCU alumni who reside in Charlotte, N.C., the university's motto, "In Truth and Service," resonates in their hearts beyond their years at NCCU.
On Oct. 18, 2020, more than 100 NCCU alumni gathered to give donated food, clothing and toiletries to individuals in need. Members of the Charlotte Alumni Chapter participated in the weekly event organized by Block Love Charlotte, a local non-profit organization that provides assistance for individuals in need.
A number of metropolitan cities have experienced growth in the homeless population as a result of COVID-19's impact on the economy.
Block Love Charlotte designates Sunday mornings as "HBCU Sundays," in which local HBCU alumni groups provide service to assist individuals in need while also invoking school pride. Alumni from North Carolina HBCUs including Johnson C. Smith University, North Carolina A&T State University and Winston Salem State University have participated thus far.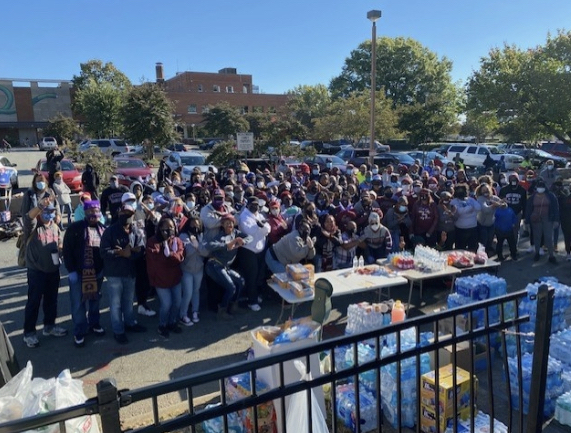 Within a week of mobilizing via social media and word of mouth, alumni donated items for children, food, clothing, shoes, hygiene products and personal protective equipment.
Participants also leveraged relationships with local companies and organizations to donate to the cause as well. Alumnus Kelsey Jones provided 100 blessings bags from his employer which contained words of affirmation, journals and additional essential items.
"The Eagles showed up and showed out; the donations were way more than we could've ever imagined," said Nikki Davis-Green, participant organizer and NCCU National Alumni Association Membership chair.
NCCU alumnus and Charlotte City Council at-large member James Mitchell Jr. also attended and delivered personal protective equipment.
The group also provided a disc jockey for the event, creating a family-like atmosphere that everyone enjoyed.
"It was really something to see and experience," Davis-Green added.
The Charlotte Alumni Chapter is known for its community service efforts in providing food for individuals experiencing food scarcity. Davis-Green forecasts future service events of this variety.