North Carolina Central University (NCCU) alumna and former student-athlete Naima Stennett, '10, '13, fell in love with cycling two years ago.
During the coronavirus pandemic, that love flourished into a passion to help others while also introducing her favorite sport to others. 
Most recently, she rode over 500 miles during a two-month period in the Great Cycle Challenge for the Children's Cancer Research Fund. Her efforts raised more than $1,000 for the initiative to fight childhood cancer.
Stennett returned to Durham in July 2020 following medical school and formed the NCCU Cycle Club to encourage cycling among NCCU students, faculty, staff and alumni.
She soon joined forces with Bike Durham to increase awareness of cycling in the Durham community. During the pandemic, she traveled Bike Durham's custom routes with Ride With GPS, which has a custom NCCU Bike Tour, and took advantage of the American Tobacco Trail.
"Riding a bike is the closest you can get to flying," Stennett said. "I truly believe this is an opportunity where Eagles can soar."
A native of Kingston, Jamaica, and a volleyball standout, Stennett was awarded a full scholarship to NCCU at 16-years-old.
She credits her humble upbringing in Jamaica to her success on and off the court.
"My high school played a huge role in education and access to sports," Stennett said. "The curriculum encouraged everyone to participate in physical education and sports. It was encouraged to do your best in the classroom, and also through sports."
Stennett participated in the 2006 Pan-American Games, the 2017 World Qualifiers international volleyball tournaments, and numerous Caribbean volleyball championships.
"As a former student-athlete, cycling has been a great way to return to my roots as an athlete with low impact on my joints, while also creating a network/community of people who enjoy cycling," Stennett said.
Stennett obtained her bachelor's and master's degrees in biology from NCCU. She earned her medical degree from East Carolina University Brody School of Medicine.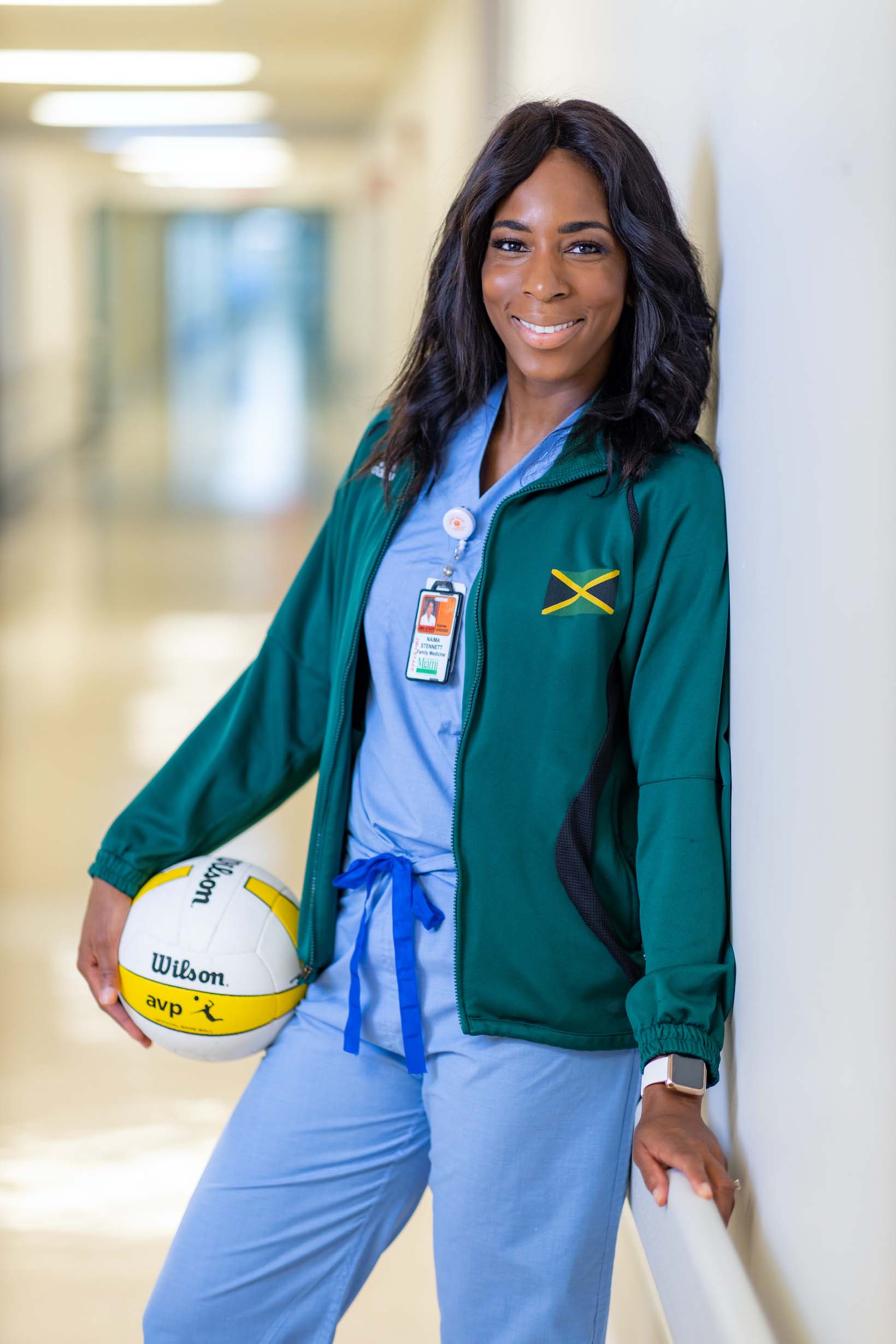 Stennett completed a residency at the University of Miami's Jackson Memorial Hospital before accepting a one-year sports medicine fellowship at the University of North Carolina at Chapel Hill (UNC).
While working in Miami she was highlighted by ESPN as a former student-athlete now on the front lines fighting COVID-19.
As a UNC Sports Medicine fellow, Stennett is training to provide care for UNC and NCCU athletes. She aspires to continue her work in sports medicine, emphasizing in services for young athletes in underserved communities.
While in high school, she observed firsthand the need for better medical resources for athletes in Jamaica.
"We often have very limited resources," she said of her home country. "I hope that I can use the tools provided to me to make a difference both in the United States and in the Caribbean."
Stennett holds membership in numerous organizations, including the American Academy of Family Physicians, American Medical Society for Sports Medicine and the American Medical Association among others. She was named as a NCCU Forty Under Forty awardee in September 2020.
Along with cycling, Stennett uses her free time play recreational volleyball and running. She also enjoys traveling, do-it-yourself projects and cooking. And she serves as a mentor to pre-medical and medical students.
A true servant-leader, Stennett established the Dr. Naima A. Stennett Scholarship Fund to assist deserving high school students in Jamaica and other Caribbean countries with the pre-college expenses, such as admission test fees for eligibility to study in the United States. The fund covers the costs of taking the SAT examination, as well as supplementary support services and study materials.
"The most lasting and fulfilling achievements are earned by helping others fulfil their dreams," she said.