North Carolina Central University's (NCCU) Fabrication Laboratory (Fab Lab) has been honored with the 2020 Inspiring Programs in STEM Award from INSIGHT Into Diversity magazine. The award honors colleges and universities that encourage and assist students from underrepresented groups to enter the fields of science, technology, engineering, and mathematics (STEM). NCCU will be featured, along with 73 other recipients, in the September 2020 issue of the magazine.
The Fab Lab was selected based on its efforts to inspire and encourage a new generation of individuals to consider careers in STEM through mentoring, teaching, research and successful programs and initiatives.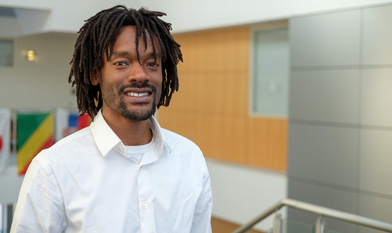 "To be honored by INSIGHT Into Diversity magazine underscores the work of NCCU's FAB Lab in bridging the digital divide that separates certain populations from learning experiences and opportunities with tools of technology," said Eric Saliim, Fab Lab director. "As we move into the 21st century, it is important to provide learning experiences that engages individuals with technology that will shape our society to ensure everyone has the skills and competencies suitable for a highly technologically advanced society."
Its mission to engage a critical mass of underserved and underrepresented populations with tools of technology and computation has led to developing many of its recent initiatives.
The Fab Lab hosts Fab Fridays for students in Durham schools twice each month. So far, Fayetteville Street Elementary, Pearsontown Elementary and Shepard Middle School have participated by sending students over to work in the lab. Members of the public can also use the lab and even get an orientation on the equipment. 
"We know that many STEM programs are not always recognized for their success, dedication, and mentorship for underrepresented students," says Lenore Pearlstein, owner and publisher of INSIGHT Into Diversitymagazine. "We want to honor the schools and organizations that have created programs that inspire and encourage young people who may currently be in or are interested in a future career in STEM. We are proud to honor these programs as role models to other institutions of higher education and beyond."
For more information about the 2020 Inspiring Programs in STEM Award, visit insightintodiversity.com.