Ti'Eja Woodson has become accustomed to serving as a royal ambassador for the university in her role as the 2019 Miss NCCU. For four days beginning January 30, 2020, she traded her scepter for a football for the NFL's Super Bowl LIV Week in Miami.
Woodson was one of 10 Historically Black College and University students invited to participate in a Super Bowl Experienceship with the NFL's Football Operations and Youth Football departments.
In December 2019, she was selected and attended the NFL HBCU Careers in Football Symposium held annually during the Celebration Bowl in Atlanta. Her participation led to her selection for the Experinceship program. The program is coordinated by NCCU's former assistant athletics director for internal operations and assistant senior woman administrator, Jashell Mitchell. Currently, Mitchell serves as manager of diversity and inclusion for Football Operations with the NFL.
Woodson, a senior business administration major with a concentration in human resources management, was able to capture a sneak-peak and inside view into one major aspect of the NFL's multi-billion dollar operations during its biggest week annually. 
"I was assigned to the NFL Experienceship Youth Football Event that was part of the Super Bowl Experience at the Miami Beach Convention Center, NFL House and Hard Rock Stadium," she said. "I worked with several of the activities and assisted with events including the Football Stakeholders Breakfast, where Devin Hester, a retired Chicago Bears player, was the keynote speaker. I also worked with a women's flag football league that partnered with Russell Wilson and his wife, Ciara, for an event that was held at the Convention Center."
The individuals Woodson saw or met included a who's-who of professional football — from the New England Patriot's head coach Bill Belichick to two-time Super Bowl champion and former Baltimore Raven and Philadelphia Eagles wide-receiver Torrey Smith.
"I sat at the table with Torrey and he provided the Experienceship participants with so many nuggets and life lessons about growth and maturity."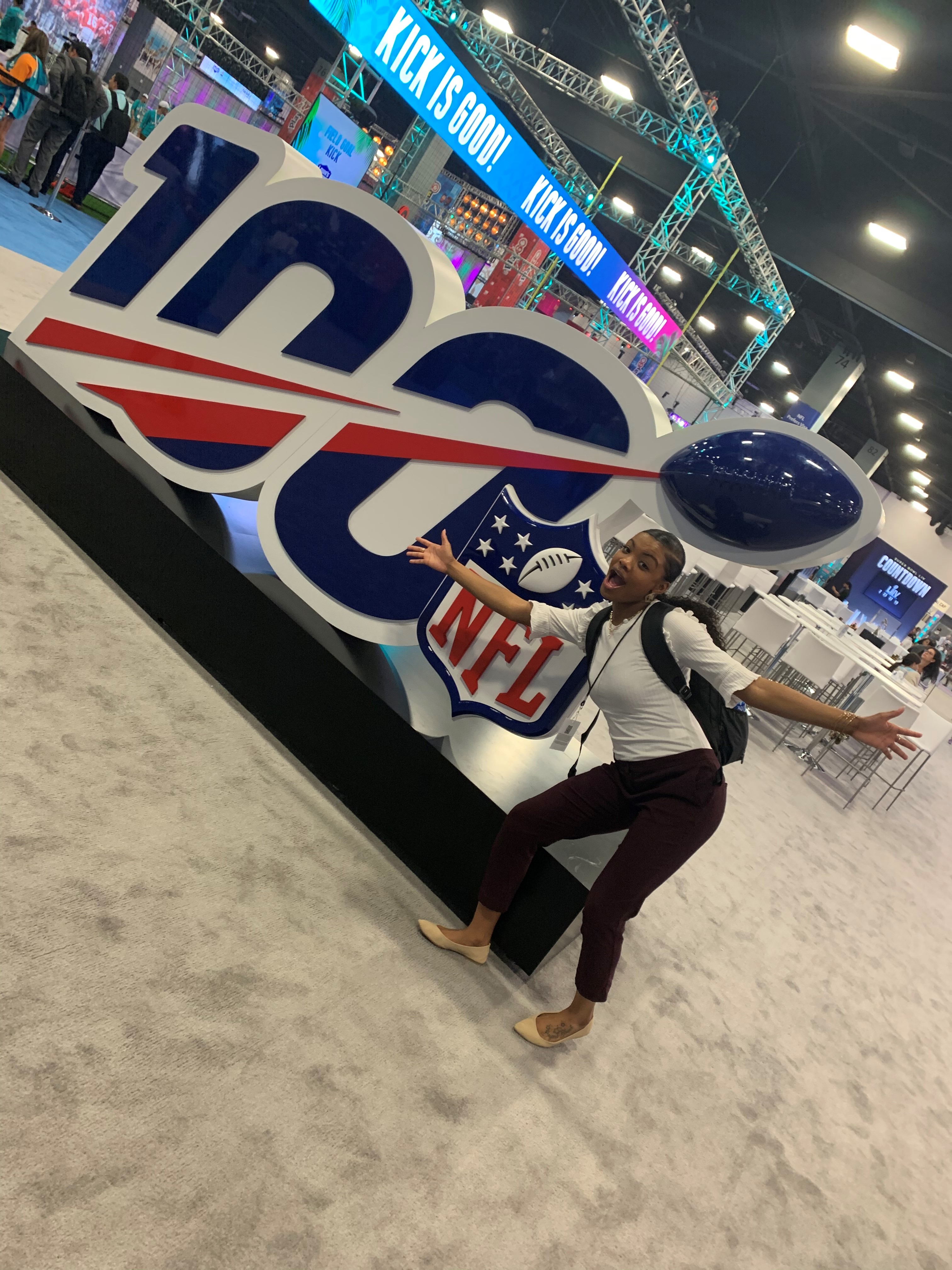 Woodson left the weekend after gaining several new professional insights.
"I learned that you have to maximize your opportunities," she explained.  "This program pushed me outside my comfort zone and taught me that you have to be adaptable. Also, you can't be a fan when you are working. You are still on the job when you work in this or any other high profile industry. Lastly, there are several components to the NFL, but at the organization's core, strategic planning, analytics and connecting it to the organization's purpose help it run effectively."
While Woodson was rooting for the San Francisco 49ers, the first-generation Eagle was giving thanks for the opportunity to be part of a global sports event and the opportunity to cheer on the team that both her mother and grandmother were rooting for.